APC Smart-UPS RT 6000VA RM 208V to 208/120V

APC Smart-UPS On-Line, 4200 Watts / 6000 VA,Input 208V / Output 120V, 208V, Interface Port Smart-Slot, Extended runtime model, Rack Height 3U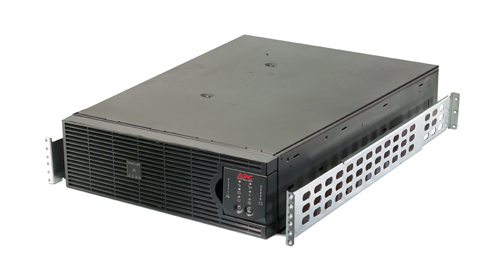 Includes: CD with software, Rack Mounting support rails, Removable support feet, Smart UPS signalling RS-232 cable, User Manual
Looking for Better Pricing? Please Contact Us for help!
APC Products
APC Smart-UPS On-Line Series
APC Smart-UPS RT 6000VA RM 208V to 208/120V
#SURTD6000RMXLP3U
Our Price: $10,620.00
More pricing below, click here!
A versatile UPS developed for the harshest power conditions in the world.
Smart-UPS On-Line provides high density, true double-conversion on-line power protection for servers, voice / data networks, medical labs, and light industrial applications. Capable of supporting loads from 1 to 20kVA in a rack/tower convertible form, the Smart-UPS On-Line is available from 2U to 12U. Recent family extensions at 15 and 20kVA enable support of power hungry blade servers or heavily loaded equipment racks. When business-critical systems require runtime in hours, not minutes, Smart-UPS On-Line can be configured with matching battery packs to comply with aggressive runtime demands. The included PowerChute management software provides unattended graceful shutdown of network operating systems. All models 5kVA and above include an integrated Network Management Card for remote management (optional on models below 5 kVA). The entire Smart-UPS On-Line family provides value to customers with demanding power environments, including very wide input voltage window, extremely tight output voltage regulation, frequency regulation, internal bypass, and input power factor correction.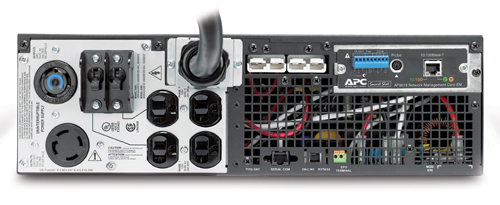 Features & Benefits:
Availability
Automatic internal bypass
Supplies utility power to the connected loads in the event of a UPS overload condition or fault.
Scalable runtime
Allows additional run time to be quickly added as needed.
Intelligent battery management
Maximizes battery performance, life, and reliability through intelligent, precision charging.
Hot-swappable batteries
Ensures clean, uninterrupted power to protected equipment while batteries are being replaced
Automatic restart of loads after UPS shutdown
Automatically starts up the connected equipment upon the return of utility power.
Temperature-compensated battery charging
Prolongs battery life by regulating the charge voltage according to battery temperature.
Manageability
Network manageable
Provides remote management of the UPS over the network.
InfraStruXure Manager compatible
Enables centralized management via the APC InfraStruXure® Manager.
SmartSlot
Customize UPS capabilities with management cards.
LED status indicators
Quickly understand unit and power status with visual indicators.
Serial Connectivity
Provides management of the UPS via a serial port.
Serviceability
User-replaceable batteries
Increases availability by allowing a trained user to perform upgrades and replacements of the batteries reducing Mean Time to Repair (MTTR)
Automatic self-test
Periodic battery self-test ensures early detection of a battery that needs to be replaced.
Predictive failure notification
Provides early-warning fault analysis ensuring proactive component replacement.
Disconnected battery notification
Warns when a battery is not available to provide backup power.
Audible alarms
Provides notification of changing utility power and UPS conditions.
Adaptability
Plug-and-Play external batteries
Ensures clean, uninterrupted power to the loads when adding extra runtime to the UPS.
Rack/Tower convertible
Protects the initial investment in the UPS when migrating from tower to rack-mount environment.
Flash-upgradeable firmware
Install maintenance releases of firmware remotely using FTP.
Protection
Frequency and voltage regulation
Gives higher application availability by correcting poor frequency and voltage conditions without using the battery.
Power conditioning
Protects connected loads from surges, spikes, lightning, and other power disturbances.
Input power factor correction
Minimizes installation costs by enabling the use of smaller generators and cabling.
Generator compatible
Ensures clean, uninterrupted power to the loads in the event of an extended power outage.
Cold-start capable
Provides temporary battery power when the utility power is out.
Resettable circuit breakers
Easy recovery from overloads; no need to replace a fuse.
Safety-agency approved
Ensures the product has been tested and approved to work safely with the connected service provider equipment and within the specified environment. UL, FCC, CE, C-Tick approvals.
Technical Specifications:
Output
Output Power Capacity
4200 Watts / 6000 VA
Max Configurable Power
4200 Watts / 6000 VA
Nominal Output Voltage
120V/208V
Output Voltage Note
Configurable for 208 or 240 nominal output voltage
Efficiency at Full Load
90.00%
Output Voltage Distortion
Less than 3%
Output Frequency (sync to mains)
50/60 Hz +/- 3 Hz user adjustable +/- 0.1
Crest Factor
3 : 1
Waveform Type
Sine wave
Output Connections
(4) NEMA 5-20R


(1) NEMA L14-30R


(1) NEMA L6-30R
Input
Bypass
Internal Bypass (Automatic and Manual)
Nominal Input Voltage
208V
Input Frequency
50/60 Hz +/- 5 Hz (auto sensing)
Input Connections
NEMA L6-30P
Cord Length
10 feet (3.05 meters)
Input voltage range for main operations
156 - 236V
Input voltage adjustable range for mains operation
86 - 154V
Other Input Voltages
240
Batteries & Runtime
Battery Type
Maintenance-free sealed Lead-Acid battery with suspended electrolyte: leakproof
Included Battery Modules
2
Typical recharge time
2.50 hour(s)
Replacement battery cartridge
RBC44
RBC™ Quantity
1
Typical Backup Time at Half Load
14.1 minutes (2100 Watts)
Typical Backup Time at Full Load
4.4 minutes (4200 Watts)
Runtime Chart
Smart-UPS RT
Extended Run Options
APC Smart-UPS RT 6000VA RM 208V to 208/120V
Communications & Management
Interface Port(s)
Smart-Slot
Pre-Installed SmartSlot™ Cards
AP9616
Control panel
LED status display with load and battery bar-graphs and On Line : On Battery : Replace Battery : Overload and Bypass Indicators
Audible Alarm
Alarm when on battery : distinctive low battery alarm : overload continuous tone alarm
Emergency Power Off (EPO)
Yes
Surge Protection and Filtering
Surge energy rating
480 Joules
Filtering
Full time multi-pole noise filtering : 0.3% IEEE surge let-through : zero clamping response time : meets UL 1449
Physical
Maximum Height
5.10 inches (130 mm)
Maximum Width
17.00 inches (432 mm)
Maximum Depth
26.00 inches (660 mm)
Net Weight
127.73 lbs. (58.06 kg)
Shipping Weight
158.66 lbs. (72.12 kg)
Shipping Height
13.68 inches (347 mm)
Shipping Width
23.73 inches (603 mm)
Shipping Depth
38.60 inches (980 mm)
Color
Black
Units per Pallet
6.00
Rack Height
3U
Environmental
Operating Environment
32 - 104°F (0 - 40°C)
Operating Relative Humidity
0 - 95%
Operating Elevation
0-10000 feet (0-3000 meters)
Storage Temperature
5 - 113°F (-15 - 45°C)
Storage Relative Humidity
0 - 95%
Storage Elevation
0-50000 feet (0-15000 meters)
Audible noise at 1 meter from surface of unit
55.00 dBA
Online Thermal Dissipation
17800.00 BTU/hr
Conformance
Regulatory Approvals
CSA,FCC Part 15 Class A,UL 1778
Standard Warranty
2 years repair or replace
**The time to recharge to 90% of full battery capacity following a discharge to shutdown using a load rated for 1/2 the full load rating of the UPS.
Pricing Notes:
Pricing and product availability subject to change without notice.
Note: Shipping charges may vary depending on the selected unit's weight or the quantity of units selected. As a result, the shipping charges may change from the value you receive at checkout. A customer representative will confirm these changes with you if they occur before processing your order.
Looking for Better Pricing? Please Contact Us for help!
APC Products
APC Smart-UPS On-Line Series
APC Smart-UPS RT 6000VA RM 208V to 208/120V
#SURTD6000RMXLP3U
Our Price: $10,620.00
Interface Connections
Simple Signaling UPS Cable - USB to RJ45
Assembly Services
InfraStruXure® Assembly Services
#WASSEMUPS-3R-SB-00
Our Price: $1,795.00