APC Basic Rack PDU

1.4 kW - 14.4 kW, 15A - 50A, Horizontal or Vertical Mount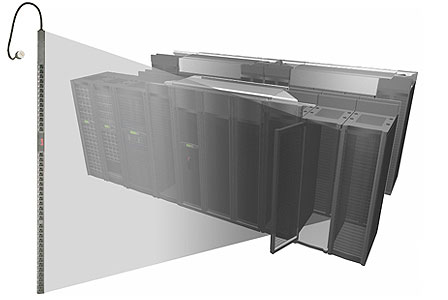 Best value for simple power distribution: APC Basic Rack PDUs provide reliable power distribution via a single input with multiple output receptacles and distributes power from low amperage single phase circuits to higher-power 3-phase solutions.
Features & Benefits:
Agility
Rack-Mountable
Includes horizontal, vertical, and toolless-mount varieties. Puts power where it is needed most - in the racks near the equipment.
Single input power source
Supply power from one branch whip to multiple pieces of equipment, conveniently powering rack-mount equipment. Saves time and money during installation by using one branch whip and standard connections.
Wide range of input and output connections
Product family includes a variety of input and output connections to distribute 120V, 208V, or 230V power to multiple outlets. Having a variety of inputs and outputs allow users to adapt to varying power requirements. APC offers units that bring up to 14.4kW using a single branch whip.
Total Cost of Ownership
Low Cost power distribution
Provides a number of outlets to bring power to rack equipment at an affordable price.
Click on a thumbnail to see that picture in full size!
100V, 120V Input

AP7530 - APC Rack PDU, Basic, Zero U, 20A, 120V, (24)5-20

APC Basic Rack PDU
Input: 100V, 120V
Input Connections: NEMA L5-20P
Cord Length: 10 feet (3.05 meters)
Output: 120V
Output Connections: (24) NEMA 5-20R
Includes: Cord retention bracket(s), Installation guide, Rack Mounting brackets, Toolless Mounting Kit, User Manual

Our Price: $269.00

AP7532 - APC Rack PDU, Basic, Zero U, 30A, 120V, (24) 5-20

APC Basic Rack PDU
Input: 100V, 120V
Input Connections: NEMA L5-30P
Cord Length: 10 feet (3.05 meters)
Output: 120V
Output Connections: (24) NEMA 5-20R
Includes: Installation guide, Rack Mounting brackets, Toolless Mounting Kit

Our Price: $329.00

AP9551 - APC Rack PDU, Basic, Zero U, 20A, 120V, (14)5-15

APC Basic Rack PDU
Input: 100V, 120V
Input Connections: NEMA L5-20P
Cord Length: 12 feet (3.66 meters)
Output: 120V
Output Connections: (14) NEMA 5-15R
Includes: Rack Mounting brackets, Toolless Mounting Kit, User Manual

Our Price: $179.00

AP9560 - APC Rack PDU, Basic, 1U, 30A, 120V, (10)5-20

APC Basic Rack PDU
Input: 100V, 120V
Input Connections: NEMA L5-30P
Cord Length: 12 feet (3.66 meters)
Output: 120V
Output Connections: (10) NEMA 5-20R
Includes: Rack Mounting brackets, User Manual

Our Price: $249.00

AP9562 - APC Rack PDU, Basic, 1U, 15A, 120V, (10)5-15

APC Basic Rack PDU
Input: 100V, 120V
Input Connections: NEMA 5-15P
Cord Length: 12 feet (3.66 meters)
Output: 120V
Output Connections: (10) NEMA 5-15R
Includes: Installation guide, Rack Mounting brackets

Our Price: $99.00

AP9563 - APC Rack PDU, Basic, 1U, 20A, 120V, (10)5-20; 5-20P

APC Basic Rack PDU
Input: 100V, 120V
Input Connections: NEMA 5-20P
Cord Length: 12 feet (3.66 meters)
Output: 120V
Output Connections: (10) NEMA 5-20R
Includes: Installation guide, Rack Mounting brackets

Our Price: $149.00

AP9564 - APC Rack PDU, Basic, 1U, 20A, 120V, (10)5-20; L5-20P

APC Basic Rack PDU
Input: 100V, 120V
Input Connections: NEMA L5-20P
Cord Length: 12 feet (3.66 meters)
Output: 120V
Output Connections: (10) NEMA 5-20R
Includes: Installation guide, Rack Mounting brackets

Our Price: $149.00

AP9567 - APC Rack PDU, Basic, Zero U, 15A, 100/120V, (14) 5-15

APC Basic Rack PDU
Input: 100V, 120V
Input Connections: NEMA 5-15P
Cord Length: 12 feet (3.66 meters)
Output: 100V, 120V
Output Connections: (14) NEMA 5-15R
Includes: Installation guide, Rack Mounting brackets, Toolless Mounting Kit

Our Price: $179.00

120V, 208V Input

AP7580 - APC Rack PDU Extender, Basic, 2U, 30A, 100/120/200/208V, (4)L5-20

APC Basic Rack PDU
Input: 120V, 208V
Input Connections: NEMA L14-30P
Cord Length: 28 feet (8.53 meters)
Output: 120V
Output Connections: (4) NEMA L5-20R
Includes: Installation guide, Rack Mounting brackets

Our Price: $449.00

AP7583 - APC Rack PDU Extender, Basic, 2U, 30A, 100/120/200/208V, (4)L5-30

APC Basic Rack PDU
Input: 120V, 208V
Input Connections: NEMA L14-30P
Cord Length: 28 feet (8.53 meters)
Output: 120V
Output Connections: (4) NEMA L5-30R
Includes: Installation guide, Rack Mounting brackets

Our Price: $449.00

200V, 208V, 230V Input

AP7540 - APC Rack PDU, Basic, Zero U, 20A, 208V, (20)C13 & (4)C19

APC Basic Rack PDU
Input: 200V, 208V, 230V
Input Connections: NEMA L6-20P
Cord Length: 10 feet (3.05 meters)
Output: 208V
Output Connections: (20) IEC 320 C13, (4) IEC 320 C19
Includes: Installation guide, Rack Mounting brackets, Toolless Mounting Kit

Our Price: $269.00

AP7541 - APC Rack PDU, Basic, Zero U, 30A, 200/208V, (20)C13 & (4)C19

APC Basic Rack PDU
Input: 200V, 208V, 230V
Input Connections: NEMA L6-30P
Cord Length: 10 feet (3.05 meters)
Output: 200V, 208V
Output Connections: (20) IEC 320 C13, (4) IEC 320 C19
Includes: Installation guide, Rack Mounting brackets, Toolless Mounting Kit

Our Price: $319.00

AP7552 - APC Rack PDU, Basic, Zero U, 16A, 230V, (20) C13 & (4) C19; IEC C20

APC Basic Rack PDU
Input: 200V, 208V, 230V
Input Connections: IEC-320 C20
Cord Length: 10 feet (3.05 meters)
Output: 230V
Output Connections: (20) IEC 320 C13, (4) IEC 320 C19
Includes: Installation guide, Rack Mounting brackets, Toolless Mounting Kit

Our Price: $269.00

AP7581 - APC Rack PDU Extender, Basic, 2U, 30A, 200/208V, (4)L6-20

APC Basic Rack PDU
Input: 200V, 208V, 230V
Input Connections: NEMA L14-30P
Cord Length: 28 feet (8.53 meters)
Output: 208V
Output Connections: (4) NEMA L6-20R
Includes: Installation guide, Rack Mounting brackets

Our Price: $449.00

AP7582 - APC Rack PDU Extender, Basic, 2U, 30A, 120V, (12)5-20

APC Basic Rack PDU
Input: 200V, 208V, 230V
Input Connections: NEMA L14-30P
Cord Length: 28 feet (8.53 meters)
Output: 120V
Output Connections: (12) NEMA 5-20R
Includes: Installation guide, Rack Mounting brackets

Our Price: $449.00

AP7584 - APC Rack PDU Extender, Basic, 2U, 30A, 200/208V, (4)L6-30

APC Basic Rack PDU
Input: 200V, 208V, 230V
Input Connections: NEMA L14-30P
Cord Length: 28 feet (8.53 meters)
Output: 208V
Output Connections: (4) NEMA L6-30R
Includes: Installation guide, Rack Mounting brackets

Our Price: $449.00

AP9559 - APC Rack PDU, Basic, 1U, 16A, 208&230V, (10)C13 & (2)C19

APC Basic Rack PDU
Input: 200V, 208V, 230V
Input Connections: IEC-320 C20
Cord Length: 8.2 feet (2.5 meters)
Output: 120V, 208V, 230V
Output Connections: (10) IEC 320 C13, (2) IEC 320 C19
Includes: Rack Mounting brackets, User Manual

Our Price: $219.00

AP9565 - APC Rack PDU, Basic, 1U, 16A, 208/230V, (12)C13

APC Basic Rack PDU
Input: 200V, 208V, 230V
Input Connections: IEC-320 C20
Cord Length: 8.2 feet (2.5 meters)
Output: 208V, 230V
Output Connections: (12) IEC 320 C13
Includes: Installation guide, Rack Mounting brackets

Our Price: $149.00

AP9566 - APC Rack PDU, Basic, 1U, 16A, 208V, (12)C13

APC Basic Rack PDU
Input: 200V, 208V, 230V
Input Connections: NEMA L6-20P
Cord Length: 12 feet (3.66 meters)
Output: 208V
Output Connections: (12) IEC 320 C13
Includes: Installation guide, Rack Mounting brackets

Our Price: $149.00

AP9568 - APC Rack PDU, Basic, Zero U, 10A, 230V, (15)C13

APC Basic Rack PDU
Input: 200V, 208V, 230V
Input Connections: IEC-320 C14
Cord Length: 6.5 feet (1.98 meters)
Output: 200V, 208V
Output Connections: (15) IEC 320 C13
Includes: Installation guide, Rack Mounting brackets, Toolless Mounting Kit

Our Price: $179.00

AP9570 - APC Rack PDU, Basic, 1U, 30A, 208V, (4) C19s

APC Basic Rack PDU
Input: 200V, 208V, 230V
Input Connections: NEMA L6-30P
Cord Length: 10 feet (3.05 meters)
Output: 208V
Output Connections: (4) IEC 320 C19
Includes: Installation guide, Rack Mounting brackets

Our Price: $249.00

AP9571A - APC Rack PDU, Basic, 1U, 30A, 208V, (10) C13

APC Basic Rack PDU
Input: 200V, 208V, 230V
Input Connections: NEMA L6-30P
Cord Length: 10 feet (3.05 meters)
Output: 208V
Output Connections: (10) IEC 320 C13
Includes: Installation guide, Rack Mounting brackets, User Manual

Our Price: $239.00

AP9572 - APC Rack PDU, Basic, Zero U, 16A, 208/230V, (15) C13

APC Basic Rack PDU
Input: 200V, 208V, 230V
Input Connections: IEC-320 C20
Cord Length: 8.2 feet (2.5 meters)
Output: 120V, 208V, 230V
Output Connections: (15) IEC 320 C13
Includes: Rack Mounting brackets, Toolless Mounting Kit, User Manual

Our Price: $219.00

208V 3PH Input

AP7516 - APC Rack PDU, Basic, 1U, 14.4kW, 208V, (6) C19

APC Basic Rack PDU
Input: 208V 3PH
Input Connections: CS8365
Cord Length: 8 feet (2.44 meters)
Output: 200V, 208V
Output Connections: (6) IEC 320 C19
Includes: Installation guide, Rack Mounting brackets

Our Price: $639.00

AP7562 - APC Rack PDU, Basic, Zero U, 5.7kW, 120V, (42)5-20

APC Basic Rack PDU
Input: 208V 3PH
Input Connections: NEMA L21-20P
Cord Length: 3 feet (0.91 meters)
Output: 120V
Output Connections: (42) NEMA 5-20R
Includes: Installation guide, Rack Mounting brackets, Toolless Mounting Kit

Our Price: $329.00

AP7563 - APC Rack PDU, Basic, Zero U, 5.7kW, 120&208V, (21)5-20 & (6)L6-20

APC Basic Rack PDU
Input: 208V 3PH
Input Connections: NEMA L21-20P
Cord Length: 3 feet (0.91 meters)
Output: 120V, 208V
Output Connections: (21) NEMA 5-20R, (6) NEMA L6-20R
Includes: Installation guide, Rack Mounting brackets, Toolless Mounting Kit

Our Price: $329.00

AP7564 - APC Rack PDU, Basic, Zero U, 5.7kW, 208V, (36)C13 & (6)C19

APC Basic Rack PDU
Input: 208V 3PH
Input Connections: NEMA L21-20P
Cord Length: 3 feet (0.91 meters)
Output: 208V
Output Connections: (36) IEC 320 C13, (6) IEC 320 C19
Includes: Installation guide, Rack Mounting brackets, Toolless Mounting Kit

Our Price: $329.00

AP7567 - APC Rack PDU, Basic, Zero U, 14.4kW, 208 V, (6) C19 & (3) C13

APC Basic Rack PDU
Input: 208V 3PH
Input Connections: CS8365
Cord Length: 6 feet (1,83 meters)
Output: 208V
Output Connections: (3) IEC 320 C13, (6) IEC 320 C19
Includes: Installation guide, Rack Mounting brackets, Toolless Mounting Kit

Our Price: $799.00

AP7568 - APC Rack PDU, Basic, Zero U, 12.5kW, 208V, (30)C13, (6)C19; 3' Cord

APC Basic Rack PDU
Input: 208V 3PH
Input Connections: CS8365
Cord Length: 3 feet (0.91 meters)
Output: 208V
Output Connections: (30) IEC 320 C13, (6) IEC 320 C19
Includes: Cord retention bracket(s), Documentation CD, Installation guide, Rack Mounting brackets, Toolless Mounting Kit

Our Price: $649.00

AP7569 - APC Rack PDU, Basic, Zero U, 14.4kW, 208V, (24)C13, (4)C19, (2)L6-30R; 3' Cord

APC Basic Rack PDU
Input: 208V 3PH
Input Connections: CS8365
Cord Length: 3 feet (0.91 meters)
Output: 208V
Output Connections: (24) IEC 320 C13, (4) IEC 320 C19, (2) NEMA L6-30R
Includes: Cord retention bracket(s), Documentation CD, Installation guide, Rack Mounting brackets, Toolless Mounting Kit

Our Price: $979.00

AP7592 - APC Rack PDU, Basic, ZeroU, 5.7kW, 120V, (42)5-20; 10' Cord

APC Basic Rack PDU
Input: 208V 3PH
Input Connections: NEMA L21-20P
Cord Length: 10 feet (3.05 meters)
Output: 120V
Output Connections: (42) NEMA 5-20R
Includes: Installation guide, Rack Mounting brackets, Toolless Mounting Kit

Our Price: $329.00

AP7599 - APC Rack PDU, Basic, Zero U, 14.4kW, 208V, (24)C13, (4)C19, (2)L6-30R; 10' Cord

APC Basic Rack PDU
Input: 208V 3PH
Input Connections: CS8365
Cord Length: 10 feet (3.05 meters)
Output: 208V
Output Connections: (24) IEC 320 C13, (4) IEC 320 C19, (2) NEMA L6-30R
Includes: Cord retention bracket(s), Documentation CD, Installation guide, Rack Mounting brackets, Toolless Mounting Kit

Our Price: $989.00

AP7598 - APC Rack PDU, Basic, Zero U, 12.5kW, 208V, (30)C13, (6)C19; 10' Cord

APC Basic Rack PDU
Input: 208V 3PH
Input Connections: CS8365
Cord Length: 10 feet (3.05 meters)
Output: 208V
Output Connections: (30) IEC 320 C13, (6) IEC 320 C19
Includes: Cord retention bracket(s), Documentation CD, Installation guide, Rack Mounting brackets, Toolless Mounting Kit

Our Price: $669.00

400V 3PH Input

AP7557NA - APC Rack PDU, Basic, Zero U, 11 KW, 230V, (36) C13 & (6) C19

APC Basic Rack PDU
Input: 400V 3PH
Input Connections: IEC 309 20A 3P+N+E
Cord Length: 3 feet (0.91 meters)
Output: 230V
Output Connections: (36) IEC 320 C13, (6) IEC 320 C19
Includes: Installation guide, Rack Mounting brackets, Toolless Mounting Kit, User Manual

Our Price: $739.00