APC Back-UPS Series

Battery Backup & Surge Protector for Electronics and Computers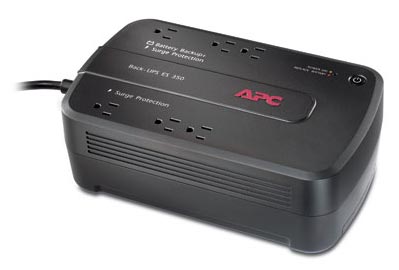 Peace of mind from the world's most trusted UPS.
The Back-UPS battery backup offers guaranteed power and surge protection for wireless networks, computers, gaming consoles and other electronics in your home or business. Models supply battery backup during outages and unsafe voltage fluctuations, as well as provide protection from damaging surges and spikes. They're available in 'tower' or 'floor' styles, and together with a variety of standard features, they are the perfect choice to protect your data and keep you connected.
Features & Benefits:
Features:
Battery failure notification
Provides early-warning fault analysis on batteries enabling timely preventive maintenance
Battery-protected and surge-only outlets
Reserves power capacity and run time for connected equipment that require battery back-up while providing surge only protection for less critical equipment
Cold-start capable
Provides temporary battery power when the utility power is out.
Hot-swappable batteries
Ensures clean, uninterrupted power to protected equipment while batteries are being replaced
Disconnected battery notification
Warns when a battery is not available to provide backup power.
Dataline Surge Protection
Provides protection of connected equipment from power surges on the data lines.
Automatic self-test
Periodic battery self-test ensures early detection of a battery that needs to be replaced.
Audible alarms
Provides notification of changing utility power and UPS conditions.
User-replaceable batteries
Increases availability by allowing a trained user to perform upgrades and replacements of the batteries reducing Mean Time to Repair (MTTR)
Transformer-block spaced outlets
Protect equipment with input transformer blocks without blocking access to other receptacles.
Intelligent battery management
Maximizes battery performance, life, and reliability through intelligent, precision charging.
Safety-agency approved
Ensures the product has been tested and approved to work safely with the connected service provider equipment and within the specified environment. UL, FCC, CE, C-Tick approvals.
Lifetime data recovery warranty
Provides peace of mind by providing professional data recovery services in the event data is lost due to the failure of the unit.
Battery replacement without tools
Allows quick, easy battery replacement.
LED status indicators
Quickly understand unit and power status with visual indicators.
Runtime Chart:
120V
Watts
50
100
200
300
400
500
600
700
800
Full
Half
VA~
80
160
320
480
640
800
960
1120
1280
Load
Load
BE350G
24 min
10 min
2 min
-
-
-
-
-
-
2 min (100 Watts)
9 min (200 Watts)
BK350
47 min
19 min
5 min
-
-
-
-
-
-
5 min (210 Watts)
18 min (105 Watts)
BK500
1 hrs 2 mins
26 min
8 min
2 min
-
-
-
-
-
2 min (300 Watts)
14 min (150 Watts)
BK500BLK
1 hrs 2 mins
26 min
8 min
2 min
-
-
-
-
-
2 min (300 Watts)
14 min (150 Watts)
BE550G
1 hrs 5 mins
28 min
10 min
4 min
-
-
-
-
-
3 min (330 Watts)
13 min (165 Watts)
BE650G
1 hrs 27 mins
38 min
15 min
7 min
-
-
-
-
-
4 min (390 Watts)
15 min (195 Watts)
BE750G
1 hrs 25 mins
36 min
14 min
7 min
3 min
-
-
-
-
2 min (450 Watts)
11 min (225 Watts)
---
Legacy Products