APC Back-UPS, 390 Watts / 650 VA, Input 120V / Output 120V , Interface Port USB

Best Value Battery Backup & Protection for Home Computers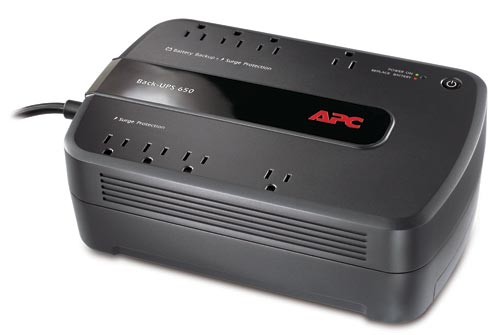 Includes:USB cable, User Manual
Looking for Better Pricing? Please Contact Us for help!
APC Products
APC Back-UPS ES
APC Back-UPS ES 8 Outlet 650VA 120V
#BE650G1
Our Price: $159.00
More pricing below, click here!
Overview:
Key Features:
Battery failure notification
Battery replacement without tools
Disconnected battery notification
Intelligent battery management
LED status indicators
Replace Battery LED
USB connectivity
User-replaceable batteries
The most popular desktop UPS in the world!
APC's Back-UPS® ES series is now "greener" than ever. The ES 650 utilizes an ultra-efficient design that consumes less power during normal operation than any other battery backup in its class, saving you money on your electricity bill. It's also RoHS compliant, which means its manufacture and ultimate disposal is easier on the environment. Even the packaging has been carefully selected to minimize energy use in it's creation, and to maximize the use of recycled materials. Coupled with all the standard features of the Back-UPS ES series, the ES 650 is the best value for home and home office computers.
Features & Benefits:
Protection
Battery failure notification
Provides early-warning fault analysis on batteries enabling timely preventive maintenance
Power conditioning
Protects connected loads from surges, spikes, lightning, and other power disturbances.
Dataline Surge Protection
Provides protection of connected equipment from power surges on the data lines.
Lifetime data recovery warranty
Provides peace of mind with professional data recovery services in the event data is lost due to the failure of the unit (not available on all models).
Safety-agency approved
Ensures the product has been tested and approved to work safely with the connected service provider equipment and within the specified environment. UL, FCC, CE, C-Tick approvals.
Convenience
Audible alarms
Provides notification of changing utility power and UPS conditions.
Automatic self-test
Periodic battery self-test ensures early detection of a battery that needs to be replaced.
Cold-start capable
Provides temporary battery power when the utility power is out.
Hot-swappable batteries
Ensures clean, uninterrupted power to protected equipment while batteries are being replaced
Resettable circuit breakers
Enables quick recovery from UPS overload events.
Transformer-block spaced outlets
Protect equipment with input transformer blocks without blocking access to other receptacles.
Runtime Chart:
120V
Watts
50
100
200
300
400
500
600
700
800
Full
Half
VA~
80
160
320
480
640
800
960
1120
1280
Load
Load
BE350G
16 min
6 min
1 min
-
-
-
-
-
-
1 min (200 Watts)
6 min (100 Watts)
BE550G
1 hrs 8 mins
28 min
10 min
4 min
-
-
-
-
-
3 min (330 Watts)
13 min (165 Watts)
BE650G1
1 hrs 5 mins
29 min
12 min
6 min
-
-
-
-
-
3 min (390 Watts)
12 min (195 Watts)
BE750G
1 hrs 29 mins
38 min
14 min
7 min
4 min
-
-
-
-
2 min (450 Watts)
11 min (225 Watts)
Technical Specifications: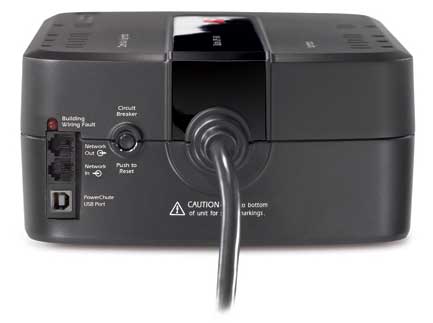 Output
Output Power Capacity
390 Watts / 650 VA
Max Configurable Power
390 Watts / 650 VA
Nominal Output Voltage
120V
Output Frequency (sync to mains)
60 Hz
Waveform Type
Stepped approximation to a sinewave
Output Connections
(4) NEMA 5-15R (Battery Backup)


(4) NEMA 5-15R (Surge Protection)

Required Output Current Protection
15A
Input
Nominal Input Voltage
120V
Input Frequency
50/60 Hz
Input Connections
NEMA 5-15P
Cord Length
6 feet (1.83 meters)
Input voltage range for main operations
88 - 139V
Maximum Input Current
12A
Input Breaker Capacity
15A
Batteries & Runtime
Battery Type
Maintenance-free sealed Lead-Acid battery with suspended electrolyte: leakproof
Typical recharge time
24 hour(s)
Replacement battery cartridge
RBC17
RBC™ Quantity
1
Communications & Management
Interface Port(s)
USB
Control Panel
LED status display with On Line : On Battery : Replace Battery and Building Wiring Fault
Audible Alarm
Alarm when on battery : distinctive low battery alarm : overload continuous tone alarm
Surge Protection and Filtering
Surge Energy Rating
365 Joules
Filtering
Full time multi-pole noise filtering : 5% IEEE surge let-through : zero clamping response time : meets UL 1449
Dataline Protection
RJ-45 Modem/Fax/DSL/10-100 Base-T protection,Co-axial Video / Cable protection
Physical
Maximum Height
3.40 inches (86 mm)
Maximum Width
7.10 inches (180 mm)
Maximum Depth
11.20 inches (284 mm)
Net Weight
13.64 lbs. (6.20 kg)
Shipping Weight
15.40 lbs. (7.00 kg)
Shipping Height
5.00 inches (127 mm)
Shipping Width
8.90 inches (226 mm)
Shipping Depth
15.20 inches (386 mm)
Color
Black
SCC Codes
1073130425652 3
Environmental
Operating Environment
32 - 104°F (0 - 40°C)
Operating Relative Humidity
5 - 95%
Operating Elevation
0-10000 feet (0-3000 meters)
Storage Temperature
5 - 113°F (-15 - 45°C)
Storage Relative Humidity
5 - 95%
Storage Elevation
0-50000 feet (0-15000 meters)
Audible noise at 1 meter from surface of unit
45.00 dBA
Online Thermal Dissipation
15.00 BTU/hr
Conformance
Regulatory Approvals
CSA C22.2 No. 107.1,FCC Part 15 Class B,FCC Part 68,NOM,TUV-C,UL 1778
Standard Warranty
3 years repair or replace
Equipment protection policy
Lifetime: $75,000
Environmental Compliance
RoHS,REACH: Contains No SVHCs
**The time to recharge to 90% of full battery capacity following a discharge to shutdown using a load rated for 1/2 the full load rating of the UPS.
Pricing Notes:
Pricing and product availability subject to change without notice.
Note: Shipping charges may vary depending on the selected unit's weight or the quantity of units selected. As a result, the shipping charges may change from the value you receive at checkout. A customer representative will confirm these changes with you if they occur before processing your order.
Looking for Better Pricing? Please Contact Us for help!
APC Products
APC Back-UPS ES
APC Back-UPS ES 8 Outlet 650VA 120V
#BE650G1
Our Price: $159.00
Cables
Simple Signaling UPS Cable - USB to RJ45
Extended Warranty & Service Agreements
Please Note: Extended Warranties must be purchased before the termination date of the original factory warranty, Extended Warranties are non transferable. Some aspects of the service definition presented on this web site may vary by location. In the case of a conflict between the service definitions contained on this site and the local service definitions the local service definitions will prevail. For more information, please visit our services page.
Service Pack 1 Year Extended Warranty (for concurrent sales)
#WBEXTWAR1YR-SP-01
Our Price: $59.00
Service Pack 3 Year Extended Warranty (for concurrent sales)
#WBEXTWAR3YR-SP-01
Our Price: $117.00
1 Year Extended Warranty (Renewal or High Volume)
#WEXTWAR1YR-SP-01
Our Price: $67.00
3 Year Extended Warranty (Renewal or High Volume)
#WEXTWAR3YR-SP-01
Our Price: $135.00