APC NetShelter VX Seismic 42U Enclosure with Sides Black

IT enclosures designed for specific environments and applications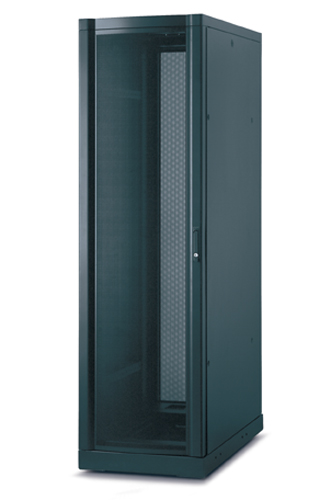 Includes: Doors, Key(s), Roof, Side Panels, User Manual
Looking for Better Pricing? Please Contact Us for help!
APC Products
APC NetShelter VX
APC NetShelter VX Seismic 42U Enclosure with Sides Black
#AR2144BLK
Our Price: $4,980.00
More pricing below, click here!
Overview:
Specialty enclosures ensure reliable operation of your rack mount IT equipment in unique environments. Wall mount enclosures are designed for small hub and LAN applications in wiring closets and server rooms with floor space constraints. Seismic enclosures are heavy duty enclosures that can be deployed in Zone 4 regions that require the safety and ruggedness of an NEBS rated enclosure. Office Enclosures are specialized enclosures with integrated cooling, noise dampening, and power distribution for server and network applications in office environments.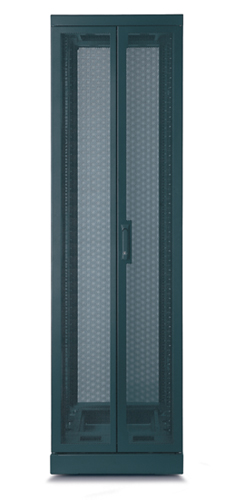 Features & Benefits:
Multi-vendor equipment compatibility

Integrated NEBS floor mounting provisions

Roof and base cable access

Reinforced welded frame construction

Powder coat paint finish
Technical Specifications:
Physical
Net Weight
518.00 lbs. (235.45 kg)
Maximum Height
81.50 inches (2070 mm)
Maximum Width
23.50 inches (597 mm)
Maximum Depth
42.20 inches (1072 mm)
Shipping Weight
556.00 lbs. (252.73 kg)
Shipping Height
87.00 inches (2210 mm)
Shipping Width
29.50 inches (749 mm)
Shipping Depth
47.50 inches (1207 mm)
Weight Capacity (static load)
1000.00 lbs. (454.55 kg)
Weight Capacity (dynamic load)
-
Rack Height
42U
Color
Black
Units per Pallet
1.00
Vertical Posts
16 gauge
Front Door
16 gauge
Rear Door
16 gauge
Roof
18 gauge
EIA Mounting Rails
14 gauge
Side Panels
20 gauge
Conformance
Regulatory Approvals
NEBS GR-63-CORE (Seismic Zone 4)
Standard Warranty
5 years repair or replace
Standards
EIA-310-D
Pricing Notes:
Pricing and product availability subject to change without notice.
Note: Shipping charges may vary depending on the selected unit's weight or the quantity of units selected. As a result, the shipping charges may change from the value you receive at checkout. A customer representative will confirm these changes with you if they occur before processing your order.
Looking for Better Pricing? Please Contact Us for help!
APC Products
APC NetShelter VX
APC NetShelter VX Seismic 42U Enclosure with Sides Black
#AR2144BLK
Our Price: $4,980.00